Featuring Our Famous Wood-Fired Steak!
After a day out in Niagara Falls, enjoy a fine selection of world-class cuisine at Coco's. We perfect our steaks, chops and burgers using our flaming open-hearth grill, giving you a savoury and flavourful dish for you to enjoy.
APPETIZERS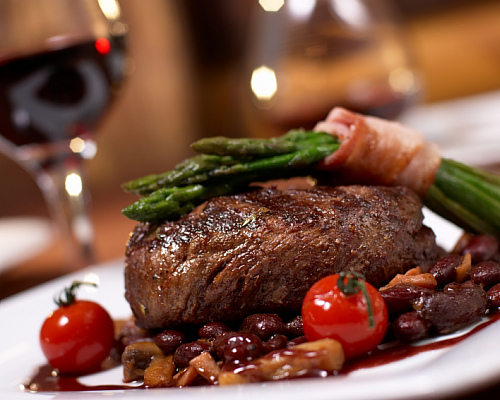 Fresh Soup of the Day
Ask your server for today's creation
6.95
French Onion Soup
Freshly made rich beef broth loaded with onions and topped with croutons and melted Gruyere cheese
8.95
Garlic Bread
Rustic baguette based with garlic butter
Topped with mozzarella cheese is $9.95
7.95
Bruschetta
A house made fresh mixture of tomatoes, onions, basil and garlic on crisp grilled baguette
Top it with Feta $11.95
9.95
Calamari
Crispy fried served with an aioli sauce
14.95
Garnished Canadian Smoked Salmon
Slices of tender smoked salmon with red onion and capers placed on rye bread and cream cheese
18.95
Classic Jumbo Shrimp Cocktail
Served with tangy seafood sauce
14.95
Nachos
Hot Nachos straight from our Wood Fired Oven, covered with shredded cheese, red onion, black olives, jalapeno with sides of salsa and sour cream
17.95
SALADS
Fresh Market Salad
Mixed greens with fresh cucumber and tomatoes - your choice of dressing
7.95
Caesar Salad
Creamy homemade dressing, crisp Italian croutons and real bacon crumbles
Add sliced rotisserie chicken breast $17.95
9.95
Greek Salad
Mixed greens topped with diced peppers, onions, olives and feta cheese, served with oregano vinaigrette
9.95
Niagara Spring Salad
Fresh baby spinach, red oak, and frisse, dried cranberries, sesame seeds, grated carrots, topped with feta your choice of raspberry vinaigrette or balsamic dressing.
Add grilled jumbo shrimp for $16.95
9.95
OPEN HEARTH WOOD FIRED GRILL & ROTISSERIE
The Filet Mignon Gourmet Burger
7 oz AAA tenderloin ground and cooked to perfection served on an open faced sesame bun served with fresh seasonal vegetables, choice of potato
Add: Aged Cheddar, Swiss Cheese, Bacon, or Onions $2.95 ea
19.95
Half Rotisserie Chicken
Tender slow cooked chicken in our house seasoning, served with fresh rosemary au jus, or barbeque sauce, seasonal vegetables and choice of potato
23.95
Grilled Pork Chop
Well marbled frenched centre cut pork chop topped with apple cranberry chutney
27.95
Coco's Jumbo Beef Ribs
From our Canadian AAA roast prime rib
28.95
Grilled Danish Baby Back Ribs
Slow roasted, tender fall off the bone ribs basted and grilled with our house BBQ sauce
29.95
Rib and Chicken Combo
Quarter rotisserie chicken with a half rack or our tender BBQ rib
29.95
New Zealand Rack of Lamb
Frenched half rack of range fed lamb anointed with Dijon
33.95
Fresh Organic Niagara Lamb
Lightly seasoned roasted on our outdoor wood fired rotisserie (in season)
39.95
Slow Roasted Prime Rib au jus
Queen Cut (9 oz.) $32.95
King Cut (12 oz.) $37.95
39.95
STEAKS FROM THE WOOD FIRE AND GRILL
New York Striploin Steak
Queen Cut (9 oz.) $34.95
King Cut (12 oz.) $39.95
Filet Mignon
Queen Cut (6 oz.) $39.95
King Cut (8 oz.) $42.95
Steak Madagascar (9 oz. Striploin)
Served with house peppercorn sauce
37.95
FROM THE SEA
Traditional Fish & Chips
Crispy battered 2 pc haddock served with fries and tartar sauce
19.95
Rainbow Trout
Whole trout pan fried in butter, garnished with sliced almonds
24.95
Fresh Salmon Fillet
Broiled and topped with soya lemon butter sauce
29.95
Seafood Platter
Battered haddock, breaded shrimp & scallops
29.95
Baked Atlantic Lobster Tails
Two 4 oz tails with lemon butter sauce
42.95
PASTA PERFECTION
Pasta of the Day
Chef seasonal pasta dish du jour
19.95
Fettucine Alfredo
Home made creamy Alfredo sauce tossed with fettuccine noodles, and sprinkled with parmesan cheese
Add Chicken or Shrimp $8.95
19.95
Pasta Primavera
Seasonal vegetables tossed with a house made marinara sauce and penne noodles
Add Chicken or Shrimp $9.95
(Gluten free pasta available upon request.)
19.95