Great Food and Good Times
Our lunch menu offers popular finger food items such as sandwiches, burgers and wraps, great for relaxing in a casual atmosphere as you take a break from your Niagara Falls vacation.
SOUPS AND SALADS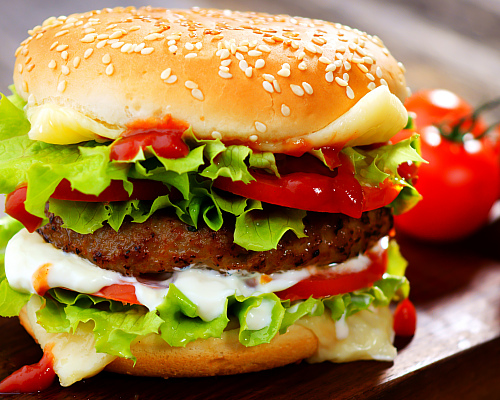 Fresh Soup of the Day
Ask your server for today's creation
6.50
French Onion Soup
Freshly made rich beef broth loaded with onions and topped with croutons and melted Gruyere Cheese
7.95
Fresh Market Salad
Mixed greens with fresh cucumber and tomatoes - your choice of salad dressing
7.95
Caesar Salad
Creamy homemade dressing, crisp Italian croutons and real bacon crumbles
Add sliced rotisserie chicken breast $16.95
9.75
Greek Salad
Mixed greens topped with diced peppers, onions, olives and feta cheese, served with oregano vinaigrette
9.95
Niagara Spring Salad
Fresh baby spinach, red oak, and frisse, dried cranberries, sesame seeds, grated carrots, topped with feta your choice of raspberry vinaigrette or balsamic dressing. Add grilled jumbo shrimp for $16.95
9.95
SNACKS AND FINGER FOOD
Garlic Bread
Crusty baguette basted with garlic butter
Top with mozzarella cheese $9.50
7.95
Bruschetta
A house made fresh mixture of tomatoes, onions, basil and garlic on crisp grilled baguette
Top it with feta $10.95
9.25
Nachos
Try our delicious Hot Nachos straight from our Wood Fired Oven, loaded with shredded cheddar cheese, red onion, black olives, jalapeno with sides of salsa and sour cream
16.95
Chicken Tenders
Crisp chicken tenders served with traditional spicy plum sauce
13.95
Traditional Buffalo Wings
Plump and juicy chicken wing, tossed in mild, medium or hot sauce. Served with carrot & celery sticks and blue cheese dips
13.95
SANDWICHES AND WRAPS
Deli Wraps
Your choice of Black Forest Ham and Swiss cheese, White Albacore Tuna Salad, BLT, served on your choice of bread or tortilla wrap
10.95
Chicken Caesar Wrap
Tender grilled chicken, crisp romaine lettuce, creamy caesar dressing and fresh bacon bits wrapped in a Tortilla Wrap
12.95
Hot Prime Rib Sandwich
Thin sliced prime rib meat, piled high on an open faced toasted baguette, and served au jus.
Top it with melted cheese $2.95
11.95
Coco's Club Sandwich
Thin sliced roasted chicken, maple smoked bacon, tomatoes and crisp lettuce served on toasted white or brown bread with creamy mayo
11.95
FROM THE GRILL
Flamed Grilled Angus Burger
Grilled and topped with the traditional fixings
12.95
Veggie Burger
Vegetarian patty prepared on our wood fire grill with fresh crisp lettuce, juicy tomatoes, white onions and crunchy pickles.
Add Cheddar, Mozzarella or Swiss for $2.50. Add Sautéed onions or mushrooms for $2.50.
12.95
Gourmet Angus Dog
1/4 lb, all beef, flamed grilled, loaded with your choice of toppings
Add Cheddar, Mozzarella, or Swiss $2.50
Add Sautéed onions or mushrooms $2.50
9.95
ENTREES
Fish and Chips
Battered and Fried Haddock. Served with crisp fries and tangy tartar sauce
2 pc $14.95
12.95 (1 pc.) - 17.95 (2 pc.)
Rotisserie Chicken
Savory 1/4 chicken served with vegetables and choice of side salad or fries
14.95
Fettuccine Alfredo
Homemade creamy Alfredo sauce tossed with fettuccine noodles, and sprinkled with parmesan cheese
Add chicken $6.50
16.95
Pasta Primavera
Seasonal vegetables tossed with a house made marinara sauce and penne noodles
Add chicken $6.50
16.50
AAA New York Striploin Steak (9 oz.)
Served with seasonal vegetables and choice of potato
29.95
SIDES
Side Garden or Caesar Salad
DESSERTS
Skylon's Famous Pecan Pie
New York Style Vanilla Cheese Cake
With strawberry sauce
7.50
Coco's Decadent Chocolate Torte
With raspberry sauce
7.50
Classic Vanilla Bean Crème Brûlée
Choice of Ice Cream or Sherbet
Sundaes
Chocolate, strawberry hot fudge
7.50
SPECIALTY COFFEES